Medical Services
Free eye Camps are organised almost every month. Patients are operated upon free of cost and treated free of cost. Free Medical Camps are also organised in the villages. Vivekananda Charitable Dispensary started on 13th March 1999 has three sections- Homoeopathic, Ayurvedic and Allopathic. All the patients are treated free of cost and medicines are also given free. Financial help is also provided to poor patients occasionally for their further treatment outside depending on the amount of interest received from the endowment created for this purpose. Patients suffering from diseases like Psoriasis are also getting cured. The Dispensary is proving a boon to the local people. Homoeopathic and Ayurvedic sections particularly are very popular. During the period 55 eye camps have been organised in which 11,991 patients were treated free of cost and 952 patients were operated upon for Cataract as per details given in Appendix I. 68 Medical Camps were . organised in the villages in which 7570 patients were treated free of cost and 55,614 poor patients were treated free of cost in Vivekananda Charitable Dispensary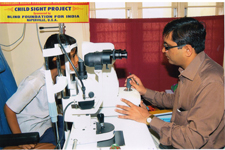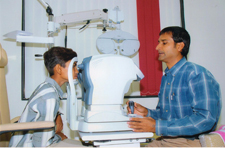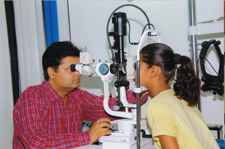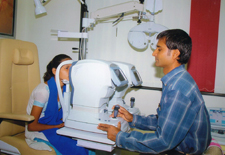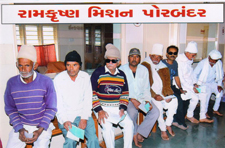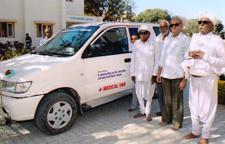 Educational Activities
Programmes on Value Education for managers, executives, teachers and students are organised from time to time in the Ashrama premises and educational institutions. Competitions on Speech, Essay etc are organised every year on the occasion of Swami Vivekananda's birthday and the prizes are given to successful candidates. Felicitation ceremony for giving prizes to the brilliant students is also held every year. 47 seminars and organised through which 12,761 participants benefited as per details given.
In order to provide value-oriented education, special programmes on 'Total Personality Development' are organised in the educational institutions, comprising of talk on 'Personality Development' followed by question-answer session and meditation session. These programmes are receiving great appreciation. 163 Programmes were organized through which 62,633 students benefited.Pictorial Exhibitions comprising 40 panels on Life and Teaching of Swami Vivekananda were organised in 126 educational institutions through which 1,06,755 persons benefited.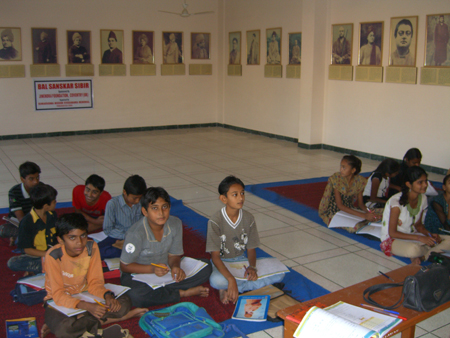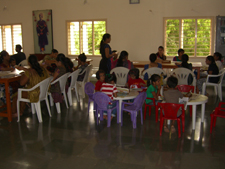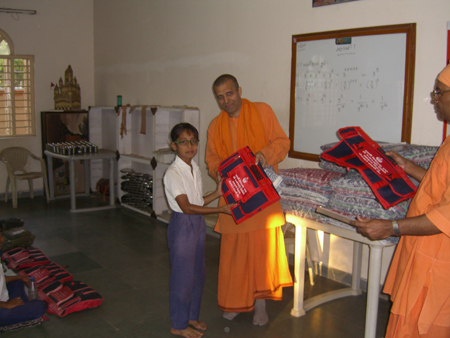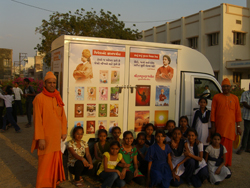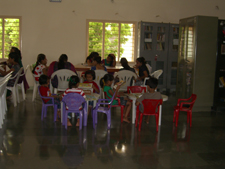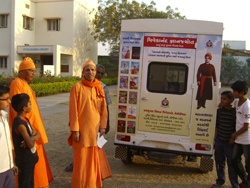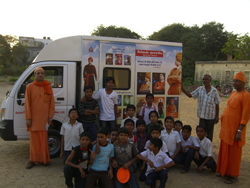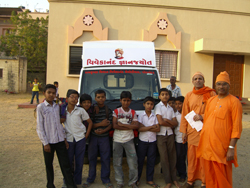 Library and Free Reading Room
A Public Library with Free Reading Room has been started in 1998 in which there are more than 13000 books on Management, Science, Philosophy, Religion, Indian culture etc. in Gujarati, Hindi & English. Free Reading Room receives more than 50 periodicals. The Library remains open from 4 pm to 7 pm except on Mondays. The Children section contains a large number of interesting books. No membership fee is charged from the public except for a refundable deposit of Rs. 100 from elderly members and Rs. 25 from the children if they want to borrow books. The Library is becoming quite popular; more than 1300 members have already been enrolled.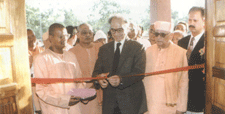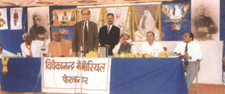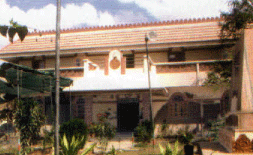 Cultural and Spiritual Activities
Worship of Shri Ramakrishna and Evening Aratrikam are organised daily. Shri Ramanama Sankirtan is held on every ekadashi day. Spiritual discourses on every Sunday as well as on special occasions are delivered one-hour before the evening prayer. Birthdays of Shri Ramakrishna, Holy Mother Sri Sarada Devi, Swami Vivekananda and other direct disciples of Shri Ramakrishna are celebrated and festivals like Ramanavami, Shri Krishna Janmashtami, Buddha Purnima, and Christmas Eve are also celebrated. Spiritual Retreats are organised occasionally.
The monks of the Ashrama go to various places for preaching the universal message of the Holy Trio During the period 386 discourses (Average attendance _171 ) were delivered in the ashrama and 732 lectures (Average Attendence _ 343 ) were given outside the ashrama in order to equip the people with the art of living and in order to enable them to get peace of mind in daily life,VCDs,Audio Cassettes and books of Shri Ramakrishna, Holy Mother Sarada Devi, Swami Vivekananda and Vedanta are made available in English, Hindi and Gujarati in the Sales iunter which remains open from 9 am to 11.30 am and 4 pm to 7 pm including Sunday A Mobile Van (Shanti Rath) containing such literature goes from village to village and rom school to school to preach the universal message of Shri Ramakrishna and the character-building message of Swami Vivekananda among the students and villagers. Books and Photographs on Sri Ramakrishna, Holy Mother Sri Sarada Devi and Swami Vivekananda are distributed free of cost or at concessional price. 'VIVEK'Notebooks brought out as a part of Value Education Programme are becoming quite popular. Last year more than one lakh Notebooks were sold at concessional price. The total sale of literature including Vivek Notebooks, Photos etc was more than Rs. 25 lacs last year.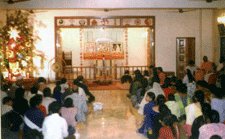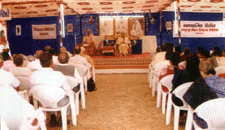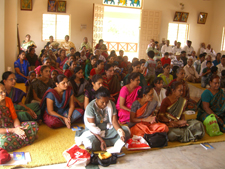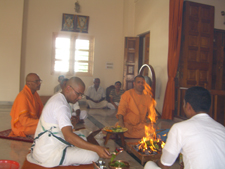 Relief and Rehabilitations Work
Wherever there is any disaster of any kind anywhere, the monks of Ramakrishna Mission rush to the place of disaster and immediately start primary relief work which is mostly followed by rehabilitation projects. True to this tradition, cyclone relief work, drought relief work and earthquake relief work were carried out on a huge scale as per details given earlier.
Relief and welfare activities, on 21st & 22nd February, 2015
As a part of ashram's relief and welfare activities, on 21st & 22nd February, 2015, 400 Ration Kits were distributed among distressed people of Village: Bhod, Adityana and Tumbada. We distributed to about 2080 beneficiaries, 400 families. The following materials were distributed:
Bajra:4000 kgs,Rice: 2000kg, Mug Dal: 600kg, Edible Oil:400kg, Sugar: 600kg, Tea Powder:100kg, Chadar: 500Pcs, Sweater: 400Pcs, Sewing Machine:10Nos,Biscuits Packets: 400Nos and Toffee for Kids